Takoma Park has a rich literary history as evidenced by our authors and their books. Takoma Authors is an on-going project by Historic Takoma to introduce these local authors to our community.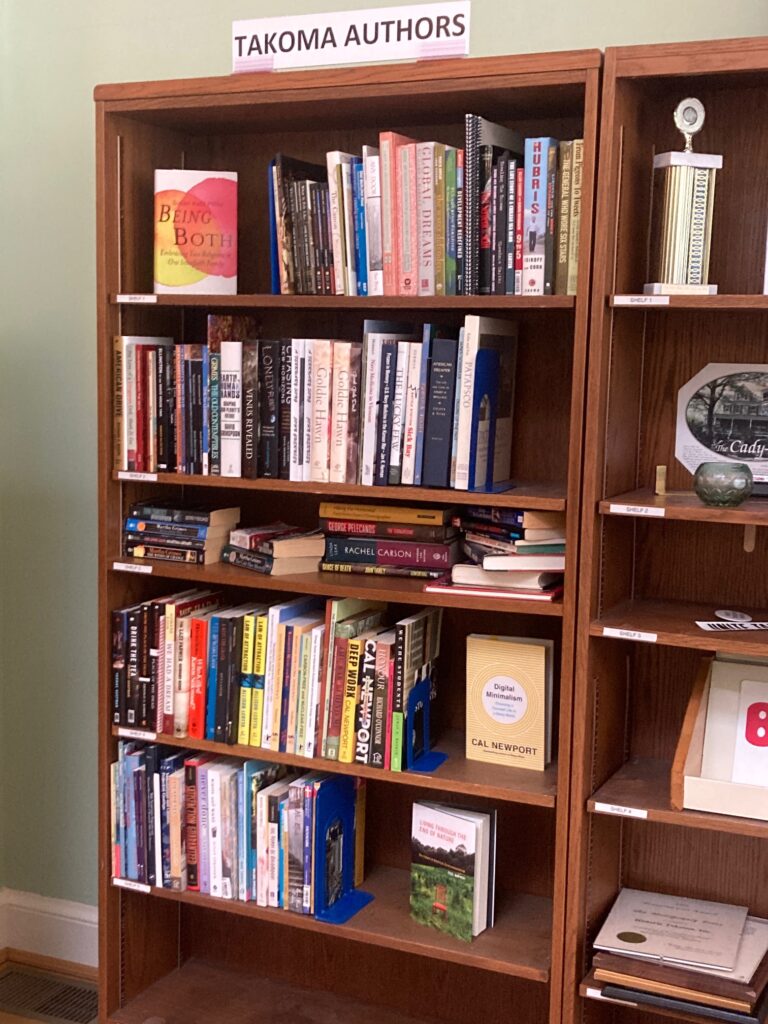 Historic Takoma asked authors who live in Takoma Park or Takoma DC  to provide copies of their books and a brief biography to share with you.  Authors who previously lived in Takoma or are closely associated with Takoma are also being identified and copies of their books and biographies will be included as the project continues. 
If you are an author living in Takoma Park and would like to participate in this project, please contact us by writing to Archives@historictakoma.org. Learn more about the Takoma Authors Project below.
Index of Titles and Authors
The Authors Bio list contains short profiles for some of the authors. Most of the profiles were provided by the authors themselves. In some cases, Historic Takoma wrote the profile.
You can find the full list of known Takoma authors by going to the Authors List. Authors with profiles are highlighted on the list. If you know of an author not on our list please send us a note at archives@historictakoma.org with the author's contact information.

You can find a list of books by Takoma authors in the Titles Index. Those titles that are available for review in the Historic Takoma Reading Room are noted by RR. Those books, which are available for either review or checkout through the Takoma Park Maryland Public Library are noted with TPML.
Takoma Authors in Area Libraries
The public libraries in our region are another way to connect with local authors. The libraries include books by local authors that meet the selection criteria for that library.  Some include electronic format books in their collections.  
The Takoma Park Maryland Public Library collects books of interest for all age groups in the greater Montgomery County area, with a special emphasis on the needs of and relevance to Takoma Park residents. When a book written by a Takoma Park author is added to the collection, "Takoma Park authors" is denoted in the catalog, and patrons may find those items by searching the quoted phrase.
The Montgomery County Public Libraries include works of local  authors in its collections and the Kensington Park, Rockville Memorial and Marilyn J. Praisner branch libraries include works by local authors on its local authors shelves.
The District of Columbia Public Library includes both print books by local authors and works of fiction published by local authors as ebooks to its collections.  
The Prince George's County Library includes works donated by local authors who are current residents of Prince George's County and the surrounding area (Montgomery County, Howard County, Anne Arundel County, Calvert County, Charles County, and the District of Columbia) for the Library's collection that have met the criteria stated in the selection policy for library material.
---
About the Takoma Authors Project
The Takoma Authors Project collects and documents the work of authors living in (or closely associated with) Takoma Park. If you are a published author living in Takoma Park – or once lived in Takoma Park or otherwise are closely associated with Takoma Park – Historic Takoma would like to add you to its Takoma Authors Collection.
The process is simple. We request: 1) a donation of your publication(s) to add to the collection. See the current list of items in our collection; 2) a short (2-4 paragraphs) write-up about you – your career, the nature of your work, ties to Takoma Park, any awards, recognitions, etc.; 3) if you have a web page or author site, its address; and 4) your name and contact information (strictly for our records, not for public distribution).
If you have a publication of a Takoma Author (especially from the past) to donate, we will happily accept it.
Publications can be dropped off at the Historic Takoma Reading Room, 7328 Carroll Avenue on Thursday afternoons between 1:00 and 4:00 pm, on the 1st or 3rd Sunday afternoon of each month, or by appointment.
You can submit your information and make arrangements for donations, ask questions or make suggestions, by writing to archives@historictakoma.org with the words "Takoma Authors" in the subject line.
For questions or comments about the Takoma Authors Project please send an email to archives@historictakoma.org
---