The first human habitation of the area we now know as Takoma Park was some twelve thousand years ago, with scattered hunting and gathering by various early peoples. By the arrival of Europeans in the early 17th century the predominant population was the Piscataways, largely based around Accokeek, Maryland during the warmer months and making hunting trips to the Takoma Park area during the winter.
On June 20, 1632, by virtue of the Maryland Charter, Charles I, King of England, Scotland, France and Ireland, and Defender of the Faith granted the lands in the area to Caecilius Calvert, the Second Lord Baltimore. By the latter part of the 19th century the lands fell into three jurisdictions: Washington County, District of Columbia; Montgomery County, Maryland; and Prince George's County, Maryland and was occupied by scattered farms and houses and a handful of roads.
The Civil War Battle of Fort Stevens had taken place a scant mile away in July 1864. The western branch of the B&O Railroad, the Metropolitan Branch, saw its last rail laid in February of 1873 and service starting in May.
Benjamin Franklin Gilbert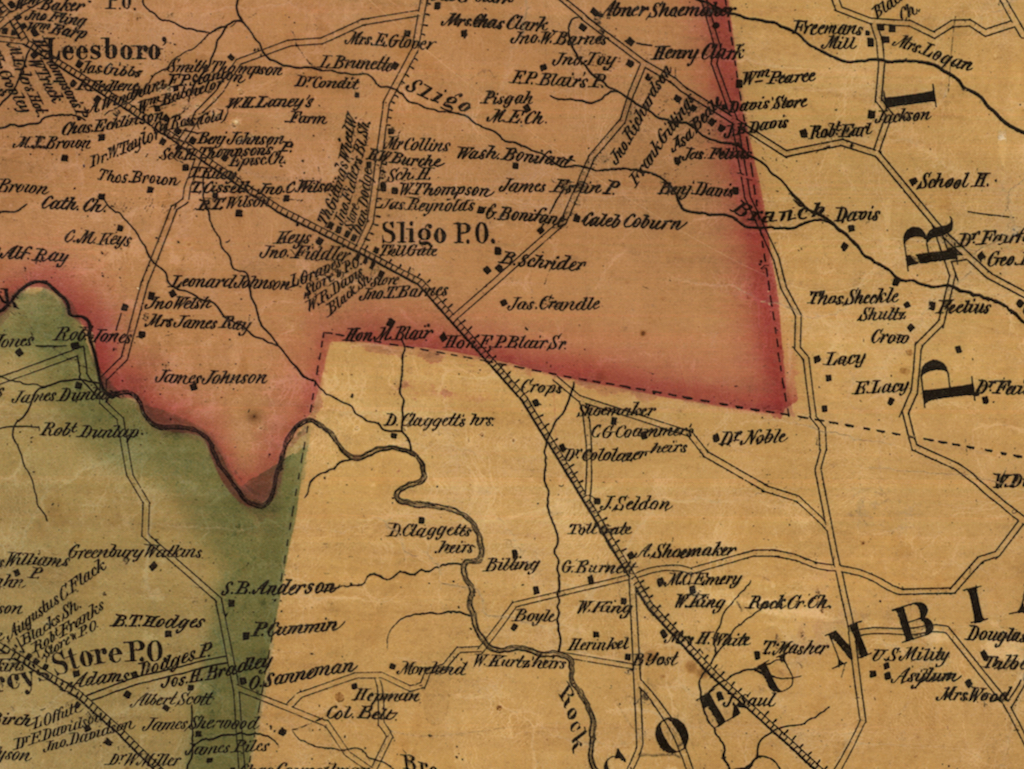 Into this world stepped Benjamin Franklin Gilbert, a real estate developer and promoter in Washington, purchasing 93 acres from the heirs of Gottlieb Grammer – lots 1, 2, and 3 of the "Grammer Farm" – straddling the Maryland-DC line in November of 1883.
He subdivided this land into streets and lots, selling his first lot on the same day he bought the land from the Grammer heirs.
Shortly more lots were sold, houses began to be erected, and the small community of Takoma Park emerged in Maryland and DC centered on the small railroad station (first called Brightwood by the B&O and then changed to Takoma). The name "Takoma" is attributed to a suggestion by a friend, Ida Summy, as an Indian name meaning "high up, near heaven." Gilbert later added the word "Park"; he and his fellow residents often referred to the community as the Park.

Gilbert subsequently purchased additional lands further to the east and north, expanding into Prince George's County. In 1890 the State of Maryland incorporated the portion in Maryland as the Town of Takoma Park. Today's city boundaries largely reflect those original purchases and subdivisions.
Takoma becomes a place to live…
Gilbert heavily promoted Takoma Park as a sylvan suburb, high above (350 feet) Washington, with clean fresh air and water. Many of the early homes were summer places, with people commuting daily on the B&O to government jobs downtown. In 1888 the Baltimore Sun reported 75 houses, ranging in price from one thousand to five thousand dollars with some under construction costing up to ten thousand dollars. Gilbert is reputed to have spent over $150,000 to layout and grade streets and make other improvements. Read More