Takoma Profiles – 10 Things You Should Know About Lee Jordan
February is Black History Month and we celebrate Takoma Park's own Black hero – Lee A. Jordan. The City Council has declared that February 23rd shall be honored every year as Lee Jordan Day. And on this day this year Takoma Radio (94.3-FM) airs an hour-long Special Program featuring segments from interviews with older people talking about growing up in the Black community during segregation and the decades that followed. Tuesday, 2:30-3:30 pm. (also streaming and archived at
In honor of Lee Jordan Day we're presenting 10 Things You Should Know About Lee Jordan.
(1) Lee Jordan's legacy is more than an athletic field named for him at Takoma Park Middle School.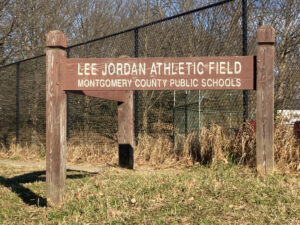 His legacy lives on in the lives of the people he touched, from his first days as custodian at Blair High School until his death in 1988. First and foremost, his guiding presence was felt by the generations of boys and girls, Black and white, whom he coached and mentored. Even those who didn't play on his teams called him "Mr. Lee," and absorbed lessons about dignity, respect and doing your best. His work bringing young people together to play sports across racial lines impacted both Black and white students as they negotiated the transition from segregated to integrated schools. And as a leader in the Black community, he played an important role in helping to forge a resilient community before and after segregation. Through his work and by example, he enriched our city as a whole.
(2) He was custodian at Blair High School and then Takoma Park Junior High from 1934-1973.
As the custodian at an all-white high school, Lee Jordan found opportunities to interact with and mentor students. When a group of white boys vandalized the school gym in 1937, his reaction was to volunteer to open the gym on Saturday afternoons so they could play basketball. A skilled athlete himself, he soon became their coach, a first step in his life's work promoting values of positive values through sports. Read More