The Birth of Takoma Radio (WOWD 94.3 FM)
Historic Takoma is the only historical society that holds an FM radio broadcast license. Why Does Historic Takoma hold a radio license?
In the summer of 2011, public radio veteran Marika Partridge put out a call to Takoma asking: "Who Want Community Radio?" The FCC was creating a new opportunity on the FM dial for low-power community radio, covering a smaller broadcast area, and meant for non-profit groups, not commercial broadcasters.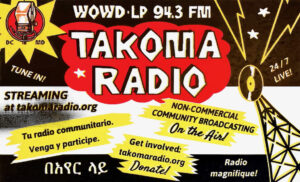 Marika was astounded by the enthusiastic response. The big issues included who would apply for the license? Non-profit, 501c3 status was required. It was important that the organization be authentic and long-standing. Discussions with several non-profit candidates fell through. Then Marika reached out to Historic Takoma, noting the shared goal/interest/mission of telling the community stories of the present and the past. Historic Takoma explored the request and after much internal debate the Board decided in 2015 to apply for the license.
Thanks to the expert guidance of Michael Richards, a Holly Avenue resident who is a communications lawyer, Historic Takoma filed for one of two available broadcasting permits. So did six other applicants, including the State of Maryland (for traffic updates.) One by one, the other proposals faltered, and in February 2015, Historic Takoma was granted the permit for 94.3 FM.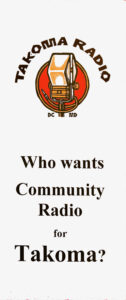 The initial support team always came though. Tonal Park's Charlie Pilzer offered space for the broadcast studio. Takoma Tower, the high-rise a block away, allowed the transmitter and antenna on its roof.
Grassroots fundraising paid for the construction of the station. Engineer Jonathan Charry took the lead in assembling the set up in Marika's living room and tinkered until it all worked. Andy Gunn set up the transmission equipment. Stuart Moore covered software and digital territory.
Broadcasting is a 24-7 proposition, and many stations rely on "canned" music. Marika and her team – including Desiree Bayonet and Tatyana Safronova – took on the task of turning ordinary citizens into radio programmers. Some cycled back to college days, and for a few, this was their first time on radio. The radio team began to build a rich digital library, and host community meetings to get direction and support.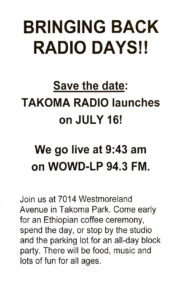 At 9:43 AM on July 16, 2016, the Takoma Park community and surrounding listeners, tuned in to hear WOWD on the air. Thanks to online streaming, many beyond the range of the 20-watt signal on 94.3fm regularly tune in. Takoma Radio has dedicated followers from all continents. Programs are archived online for 2 weeks. Some are posted online elsewhere for permanence, a new twist on Historic Takoma's mission to archive the community history of Takoma Park.
Today the station is managed by the Takoma Radio Executive Committee, consisting of the Station Manager, Program Director, and Founder/Senior Advisor. The station's programming is guided by a Programming Committee. Over 100 volunteer programmers currently produce over 70 weekly and biweekly programs on WOWD. Local artists and community news are well represented in its programming. For more information, and to listen online, go to takomaradio.org.
2020 Accomplishments
In the face of the Covid-19 pandemic, WOWD maintained nearly its entire schedule of live and local programming while protecting the health of its programmers by implementing rigorous health and safety protocols in the studio and making accommodations for those programmers not able to safely be there in person. And we took great pride in offering companionship, information, and entertainment to our listeners during a time of isolation and disruption.
In addition to our diverse regular lineup of over 70 weekly and biweekly shows, WOWD broadcast special programs throughout 2020, including:
— a live panel discussion on the community's reaction to police killings of people of color;
— live guided meditation sessions;
— a virtual community dance party;
— a live broadcast accompanying Takoma Park's congratulatory drive for high school graduates;
— a brand new biweekly show from the local Ethiopian-American community;
— a live-music special with local artists (safely presented in Allyworld, adjacent to the station); and
— a regular feature of gardening tips.
We also frequently aired public service messages from local government and nonprofit agencies related to the pandemic and the community's response to it. WOWD looks forward to continuing to entertain and inspire its listeners in 2021 with the most diverse lineup of programming on the DC area airwaves, both helping to tell Takoma Park stories and  create new ones.