Voices of Takoma Authors Inaugural Event
"From Mobtown With Love: Bringing the Past to Life with Historical Mystery Fiction"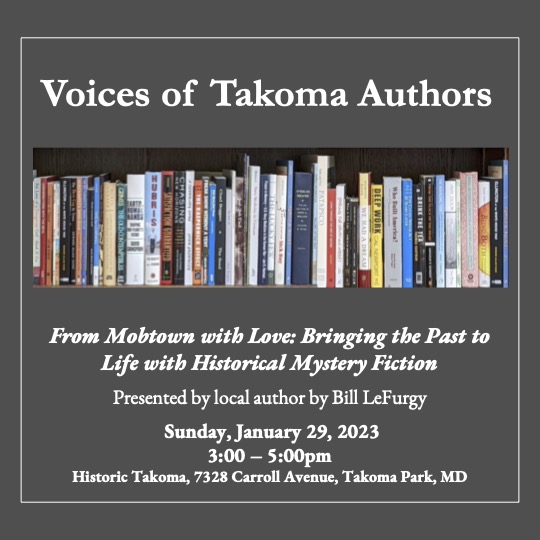 Historic Takoma launches the "Voices of Takoma Authors" on January 29 with "From Mobtown With Love: Bringing the Past to Life with Historical Mystery Fiction" with local author, Bill LeFurgy. The event takes place at Historic Takoma (7328 Carroll Avenue) from 3 PM – 5 PM.
A resident of Takoma Park since 1998, Bill is a professional historian and archivist who has studied the gilded glamor and seamy underbelly of urban life. He has put his years of research experience into writing gritty historical fiction about Baltimore, where he lived for over a decade. It remains his favorite city. While working at the Library of Congress, Bill headed a national program to preserve digital cultural heritage materials. In addition, he toured the world to speak to hundreds of libraries, archives, and museums about digital cultural heritage.
Before the Library, Bill worked as Manager of the Modern Records Program at the National Archives and Records Administration and as Baltimore City Archivist. He also worked as Manuscript Archivist at the Maryland Historical Society.
Bill will discuss his writing, his research, living in Takoma Park and more. His books, Into the Suffering City: A Novel of Baltimore; Murder In the Haunted Chamber; and Sex, Art, and Salome: Historical Photographs of a Princess, Dancer, Stripper, and Feminist Inspiration will be available for purchase after the event.
Please visit Bill's website for more information about his work.
Historic Takoma's Voices of Takoma Authors is a program developed in conjunction with our Takoma Authors project to collect and document the work of authors living in (or closely associated with) Takoma Park. As part of this project Historic Takoma has a collection of books by local authors available to read in our Reading Room.